3rd International Conference du GIS ReAL2: Crosslinguistic Influence - where are we today?
Publié le 14 août 2019
–
Mis à jour le 9 février 2021
du 5 juillet 2021 au 7 juillet 2021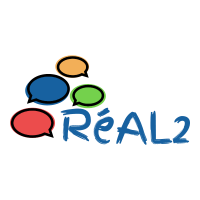 Colloque international du

Réseau d'Acquisition des Langues Secondes (RéAL2)

RéAL2 2021 « Influence translinguistique : Où en est-on aujourd'hui ? » / Crosslinguistic influence: where are we today?

Université Toulouse 2

A cause du COVID, le colloque (initialement prévu en 2020) est REPORTE au 5 - 7 juillet 2021 !

CONFERENCIERS INVITES

Benedetta Bassetti, University of Birmingham, Royaume Uni
Aneta Pavlenko, University of Oslo, Norvège
Marianne Starren, Radboud University, Pays Bas

PROPOSITIONS
Nous accueillerons deux types de propositions : des communications orales ou des communications affichées.
Communications orales : ce sont des présentations orales de recherches originales non-publiées proposées par un ou plusieurs auteurs. Elles dureront 20 minutes et seront suivies d'une discussion de 10 minutes.
Communications affichées : Plusieurs sessions de posters seront prévues dans le programme de la conférence. Les propositions de communications affichées porteront sur des recherches originales et des travaux en cours qui seront discutés de manière informelle pendant ces séances.

MODALITES DE SOUMISSION ET D'EVALUATION
Les langues du colloque seront le français et l'anglais. Les propositions de communication doivent être rédigés dans la langue prévue pour la communication. Les propositions de communications affichées ou orales ne doivent pas dépasser 500 mots (Titre et bibliographie compris). Chaque proposition sera évaluée par au moins deux membres du comité scientifique de RéAL2 2020. Les critères de sélection comprendront l'originalité de la proposition, la qualité du contenu et la pertinence thématique. Les auteurs ont le droit de soumettre une seule proposition dans laquelle ils figurent comme premier auteur. Ils peuvent aussi soumettre d'autres propositions dans lesquelles ils sont co-auteurs.

CALENDRIER
Date d'ouverture de l'appel à communications : 15 novembre 2019
Date limite pour la soumission des propositions : 15 janvier 2020
Date de notification d'acceptation : début mars 2020
Date limite pour confirmer sa présence à la conférence en cas d'acceptation : 31 mars 2020
Inscription au colloque anticipée : du 15 mars au 15 mai 2020
Inscription : à partir du 16 mai 2020.

Comité d'organisation : Charlotte Alazard-Guiu, Encarnacion Arroyo, Nour Ezzeddine, Cecilia Gunnarsson, Vanda Marijanovic, Inès Saddour, Clara Solier, Olga Théophanous, Ekaterina Tiulkova.
Lien vers le site du colloque

Télécharger l'appel à communications
ici


International conference of Réseau d'Acquisition des Langues Secondes (RéAL2)

RéAL2 2020 "Crosslinguistic influence: Where are we today ?"
Université Toulouse 2
July 6th– 8th, 2020
PLENARY SPEAKERS:
Benedetta Bassetti,
University of Birmingham
Aneta Pavlenko
, University of Oslo
Marianne Starren
, Radboud University
ABSTRACTS
Abstracts concerning two types of communication can be submitted: oral presentations or posters.
Oral presentations: presentations of original unpublished research with one or several authors. The 20 minutes long presentation will be followed by 10 minutes of questions.
Posters: Several poster sessions are planned in the conference program. The abstracts address original unpublished research and work in progress, which will be discussed in an informal way during these sessions.
SUBMISSION AND EVALUATION
The conference languages are French and English. Submissions must be written in the same language as the planned presentation. Abstracts should not exceed 500 words (references included). Every submission will be evaluated by the RéAL2 2020 scientific committee. The criteria for acceptance include, the originality, the quality and the thematic relevance of the abstract. Authors can submit one abstract as a first author and other abstracts as a co-author.
CALENDAR / IMPORTANT DATES
Start of Call for papers: November 15th 2019
Submission deadline: January 15th 2020
Date for communication of acceptance decisions: Beginning of March 2020
Deadline for confirmation of presentation at the conference if accepted: March 31st 2020
Early birds registration: from March 15th to May 15th 2020
Registration: from May 16th 2020
Link to the homepage of the conference

Download the call for papers here